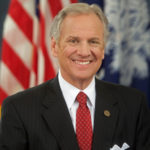 A Word From The Governor
The opioid crisis is one that has invaded so many aspects of the lives of South Carolinians and of families across the country. We have recognized that the only way to address this statewide public health emergency is to bring together state agencies, private partners, law enforcement, healthcare providers, first responders, and community members to combat the growing epidemic of opioid abuse, addiction, and deaths.
Please join me September 6 at the Columbia Metropolitan Convention Center for the 2018 SC Governor's Opioid Summit, as we come together once again to discuss new approaches to this ongoing crisis, and to reaffirm our commitment to the health and well-being of all South Carolinians.
AGENDA-AT-A-GLANCE
7:00am | Breakfast and Check-In
7: 50am | Welcome
8:00am | Opening Keynote*
9:15am | Breakout Sessions 1
10:30am | Breakout Sessions 2
11:30am | Lunch/Governor's Address*
1:00pm | Breakout Sessions 3
2:30pm | Breakout Sessions 4
4:00pm | Breakout Sessions 5
5:30pm | Open Recovery Meeting*
Keynote Speaker: Christopher M. Jones, PharmD., M.P.H. | Director of the National Mental Health and Substance Use Policy Laboratory
Lunch/Governor's Address: Governor Henry McMaster will address the state of the opioid crisis in South Carolina and recognize the efforts of law enforcement to prevent deaths among those who experience an opioid overdose.
Open Recovery Meeting: Preceded by a "sneak peak" of Year 2 of the "Just Plain Killers" opioid awareness media campaign, this meeting - open to all summit attendees - will wrap up the day with a featured speaker and the opportunity for attendees who are in recovery to share their personal stories, a clear depiction of the hope that exists on the other side of opioid use disorder.  Coffee, soft drinks, water and light hors d'oeuvres will be served.
What is the SC Opioid Summit?
The Summit is an opportunity for behavioral health professionals, law enforcement, healthcare workers, representatives of state and local government, clergy, advocates, and other caring individuals to come together and collaborate on how to meet this epidemic head on and save lives.
The 2018 SC Governor's Opioid Summit is presented by